Academics


Fortune School (FS) is a modified year-round school committed to providing students the skills and training necessary to prepare them for success in a college preparatory high school. FS uses the Five Pillars as its lifeblood, setting its students on a path to obtaining a college degree and lifelong success.
The FS program has six primary facets:
Academics
Culture
Life Skills
Extended Learning
Education Enrichment
Parent Engagement
Academics

Personalized Learning: Every student at FS is tracked by their individual results which are used to guide the educational experience. This intense focus on results and use of data, as well as the school's low student-teacher ratios, allow FS to ensure that all students are equipped to succeed in the classroom.

More Time: At FS, students start earlier and stay later than their traditional public school counterparts. The extended school day and extended school year allow teachers and students to cover a greater breadth and depth in the academic topics, which raises the bar for student learning and student achievement.

Academic Supports: Small group and one-on-one tutoring in reading, writing, and mathematics – as well as after-school homework assistance – is built into the education program at FS. Furthermore, students who are in need of additional support receive small group instruction on key language arts and math standards for up to six weeks during FS's fall, spring, and summer intersession programs.

Family Involvement: Families are partners in the learning process. FS equips parents and guardians with strategies and tools for becoming involved in their child's education through workshops, parent groups, and family-oriented events, all of which are all outlined below, in the "Parent Engagement" sub-section.

Culture

College Focus: FS recognizes that in order to break the cycles of poverty, students have obtain and college degree and the life options that come with it. Furthermore, to get students from traditionally underserved populations to achieve this goal, students must to buy into the idea of college, and they have to buy in at an early age. That is why, on the door for every class – including the kindergarten classes – there is a plaque that states those students' anticipated year of college graduation. Every class year is referred to by this college graduation year, reinforcing the importance of building a college-going community. Additionally, all students visit at least one college or university campus each academic year to help build the students' excitement about college and to provide a tangible connection to higher education.

Accountability: While the FS faculty and administration create the systems to promote student success, students must be held accountable. FS teachers do not tolerate incomplete homework or poor effort and the classrooms are open into the evening for struggling students to spend additional time on assignments and topics. FS also holds Saturday school and intersession programs for students who need extra class time.

Respect and Professionalism: All FS students are required to wear the school uniform and to treat each other, their teachers, and the administration with a heightened level of respect and professionalism. Additionally, all FS students are taught how to respectfully, confidently, and professionally introduce themselves, their class, and their schoolwork to any adult visitor in the class. This emphasis on professionalism is critical to the students' success in college and throughout life.

Community Pride: FS students recognize that by attending a Fortune School, they are active participants in the Sacramento community. Therefore, all students engage in community service throughout their FS education.

Life Skills

Setting High Expectations: Students are able to achieve at high levels only if they are driven and believe themselves capable. FS empowers students to set high expectations and supports them to meet those lofty goals with college graduation being the most commonly emphasized goal.

Study Skills: In daily study hall periods, FS faculty works with students to help them develop strong study skills and positive academic habits.

Extended Learning

FS recognizes that learning needs to extend beyond the classroom. Each year, FS students attend numerous out-of-class educational events, such as local college visits, museum tours, and performing arts opportunities in the community.

Education Enrichment

At FS, students receive a well-rounded education. In addition to a strong focus on reading, writing, and mathematics, FS views character education, arts enrichment, and leadership training as central components of the learning process.

Parent Engagement

Parent engagement is a critical component of quality education. In order for genuine learning to take place, there must be a continuum of instruction that lasts much longer than the time the child is physically at school. By working together with parents, FS can create that comprehensive learning experience. Upon enrollment, FS parents sign a contract committing to provide at least 40 hours of volunteer service with the school each year.
Curriculum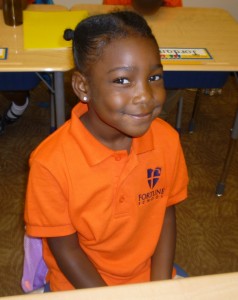 Fortune School's charter states that students will master the California content standards. We have many resources in the classroom to ensure student mastery of these standards, the best of which is our well-trained, energetic, motivated, and results-driven teaching staff. Our teachers have been equipped with outstanding curriculum, professional development, and on-going support to ensure that all students meet and are pushed to exceed their grade-level standards. FS elementary grade levels use the Harcourt curriculum for all four core subjects: ELA, math, science, and social studies. FS acknowledges that while this curriculum is the best we could find it is not perfect. As such, teachers are given the flexibility to adjust their instructional practices and materials to meet the needs of their students. This is a strength of the FS program and inspires the creativity and critical-thinking required to be a successful teacher with high-achieving students.